Provledning
Provledare: Niclas Brännström, retrieveransvarig Södra, retriever@ssrksodra.com, tel 0733-540915
Kommissarie: Viveka Brännström
---
Domare
Anita Norrblom SE, Jan Lorenzen DK, Declan Boyle IRL och Gary McCutcheon IRL
Presentation:
Anita Norrblom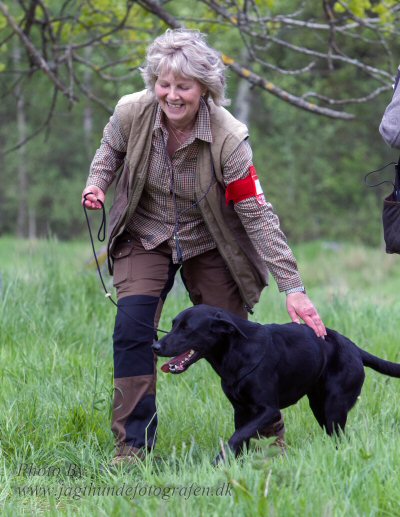 Hemmahörande på landet utanför Enköping där jag och Jörgen bor tillsammans med ett antal labradorer och två strävhåriga taxar.
Vi har en liten uppfödning av labrador under kennelnamnet Thorsvi där första kullen föddes 1998. Jag jagar regelbundet med hundarna även om jag föredrar att jobba med hundarna framför själva skyttet. Till vardags jobbar jag med att hålla kurser och träningar för retrieverekipage både på hemma- och bortaplan. Min domarauktorisation fick jag 2002 och tycker det är kul och mycket lärorikt att döma och se hundar.
Att få döma ett Retrievermästerskap är ett hedersuppdrag som jag ser fram emot. Jag har dömt RM tre gånger tidigare och vet att det är en grannlaga uppgift. Det känns tryggt med en stabil organisation och kunniga domarkollegor. Väl mött!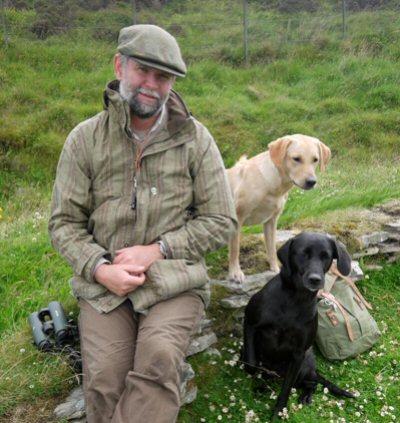 Jan Lorenzen DK
Siden min barndom har jeg brugt en masse tid på at gå på jagt, nogle mennesker vil nok sige for meget!
Jagt med hund har fyldt meget siden jeg i 1986 hvor jeg fik min første labrador. I mange år var formålet med mine labradors udelukkende jagt, først i 2002 med labrador tæven, Trompeterbakkens Dina, blev jeg fascineret og trukket ind i markprøve-verden. Med hendes gode anlæg og hjælp fra dygtige lokale retriever folk, blev jeg forført ind i denne spændende verden – med CK'er – Danske Championater og Internationale titler. Denne tæve har også givet mig fantastiske døtre og børnebørn (lige nu 3 stk i "stalden") under kennelnavnet Stenhøjgård. Både med hende og hendes datter Stenhøjgaards Brit har jeg opnået at vinde Coupe De Europa mesterskab – både individuelt og som hold senest i 2015 i Sverige.
Jeg er dybt fascineret over retrievers jagtlige evner, især efter skuddet, og det er vigtigt for mig ikke kun at bruge hundene i markprøve systemet men også at bruge mine hunde på jagt.
Siden 2011 har jeg været dommer i dansk Retriever klub og her i vinters blev jeg international dommer.
Det er mig en stor ære at dømme på jert Retrievermesterskab 2017- og jeg ser frem til at se top hundearbejde, må den bedste vinde – knæk og bræk til jer alle!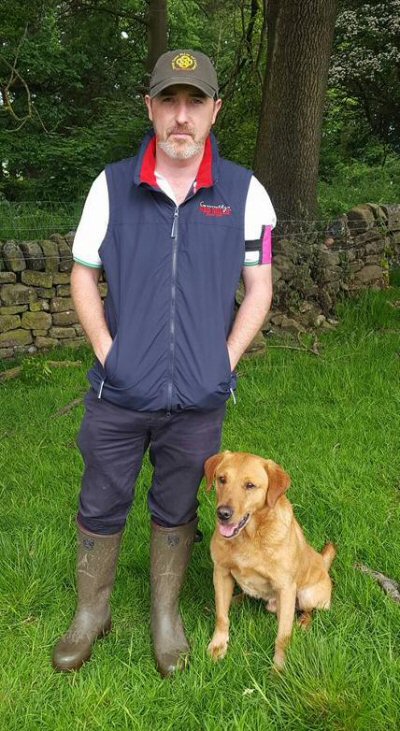 Declan Boyle IRL
My Name is Declan Boyle. I am an A panel judge in the Irish Kennel club. I am the Hon. Field Trial Secretary of The Labrador Retriever Club of Ireland. I have been  trialling labradors for about the  last 10 years.  I have made up 3 Field Trial Champions (FTCH GLENLOCH RUFF  & FTCH LEADBURN JAMIE & INTERNATIONAL FTCH MILLER MCDUFF )  I am currently running  FTCH MILLER MC DUFF. (Paddy)   I have had many awards with many different dogs in trials and working tests.  I have qualified and  run  on the Irish International Gundog Team at the CLA for the 4 years and run on the new Game Fair team last year. I have run on about 10 different Irish International Teams. I enjoy alot of Snipe and Woodcock shooting.  During the shooting season I pick-up at least 2 days a week with all my dogs unless I am Trialling.   I have also competed in England, Scotland  and Wales.  I have judged trials and Working tests in  France, Italy, Switzerland ,Hungary,  Germany and the U.S.A . I also Judged the GERMAN CUP 2012, Panniona Cup 2013 and European  ICC 2012   I have been the Captain of the  Irish Retriever Team which competed in Chatsworth for the last 5 years.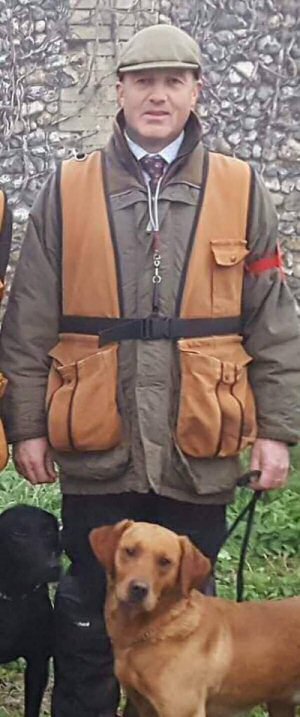 Gary McCutcheon IRL
Since an early age Gary has been involved with training and handling gundogs.
He has been competing in trials for over twenty years and during this time he has made up three field trial champions, two of which were international field trial champions.
He has qualified for the I.G.L. three times and the Irish Championships on numerous occasions.
Gary is an A panel judge within both the British Kennel Club and the Irish Kennel Club and has judged trials all over Great Britain and Ireland.
He runs a successful boarding kennel and a training academy for retrievers, which includes novice and advance training days at Corby Glen Shoot.
"I would like to take this opportunity to wish all the competitors every success. It takes a lot of hard work to qualify and I consider it an honour to be asked to judge in the 2017 Championship."